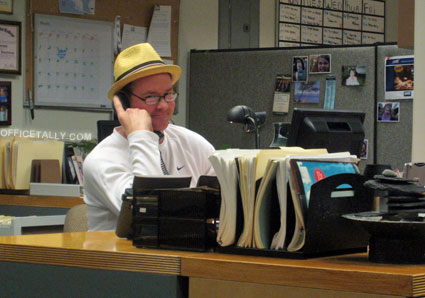 This is David in the annex making the phone call to Michael, in the Whistleblower cold open.
UPDATE: Here's the answer and the winners for The Office Season 6 finale giveaway!
The question: Which Office actor or actress did I meet for the first time during my recent set visit?
The answer: David Koechner, who plays Michael Scott's BFF, Todd Packer!
The winners: Exactly six people entered the correct answer. Of the six, I randomly picked Jules, attack readiness, and Mindy(mindysfavshow) as the winners, congratulations! Winners each receive a World's Best Boss mug + either a BlackBerry or iPhone Dunder Mifflin case, your choice. Watch your inbox for an email from me. And thanks, everyone, for playing!
The original contest announcement is on the next page.