In the writers' room
I decided to eat lunch in the writers' room one day because I just love listening to the writing process.
If I recall, there were more writers "on call" that week than usual because so many lines were being added/rewritten on the spot. One writer called themselves "the joke factory" as they churned out the gems as fast as they could. So much of my love for The Office is because of those gems, so I am in complete awe of the writing staff.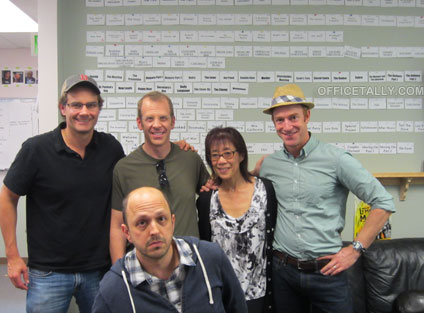 With superstar writers/producers Charlie Grandy, Paul Lieberstein, Brent Forrester, and Dan Sterling in the writers room. Best place to get lunch and a show. :)
We're standing in front of a board that lists every single episode of The Office. Every. Single. One.