The Office appears in two Valentine cards from Hallmark this year:
1. Dwight and Pam card with sound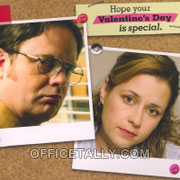 Where to buy: select Hallmark Gold Crown stores
Cover: Hope your Valentine's Day is special.
Inside: The unique and wonderful kind of special.
Not the other kind of special. (image)
Audio:

2. Dwight and Angela e-card

Where to buy: Hallmark.com
Message: It's all about you today. Happy Valentine's Day
Video: Dwight gets his bobblehead!