Sunday, February 1st, 2015 |
Comments Off
Would you pick up a prescription from sorta Greg? Uh, not recommended. What would you do if he handed over your "drugs… sorry, pharmaceuticals"?
Breaking Bad's Walter White (Bryan Cranston) intones, "say my name."
I think I almost passed out.
An Esurance ad narrated by John Krasinski.
Sunday, February 1st, 2015 |
Comments Off
After years of being treated like she was invisible, it occurred to Mindy Kaling she might actually BE invisible.
More Mindy videos here. More »
Monday, January 19th, 2015 |
Comments Off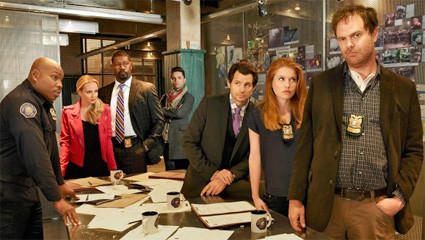 Dwight Schrute isn't Backstrom. Backstrom isn't Dwight Schrute.
This is what I kept saying to myself over and over again as I watched the first three episodes of Rainn Wilson's new show, Backstrom, which premieres on FOX Thursday, January 22. More »
Saturday, August 9th, 2014 |
14 comments
The Office: The Complete Series DVD will be released October 7, 2014.
Summary: A favorite of critics and audiences alike, The Office is a hilarious documentary-style look at the humorous and sometimes poignant foolishness that plagues the 9-to-5 world. For the first time, all nine seasons are together in one complete set – so you can relive every one of your favorite moments, including Michael's (Steve Carell) infamous encounter with a breakfast grill, Dwight's (Rainn Wilson) power plays, Jim's (John Krasinski) pranks, Andy's (Ed Helms) struggles with anger management, and of course, Pam (Jenna Fischer) and Jim's evolving romance. Also includes special appearances by Amy Adams, Kathy Bates, Rashida Jones, Amy Ryan, James Spader and more. Developed for American television by Primetime Emmy®-award winner Greg Daniels, The Office: The Complete Series includes all 201 episodes on 33 discs that you can watch back-to-back and uninterrupted – plus bonus commentaries, webisodes, blooper reels and over 15 hours of deleted scenes that are guaranteed to leave you satisfied and smiling. That's what she said!
Pre-order now: The Office: The Complete Series DVD
Sunday, May 18th, 2014 |
2 comments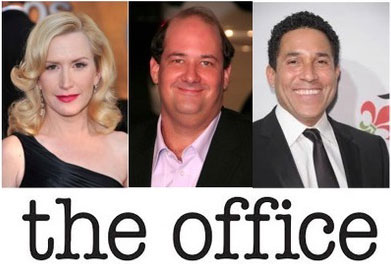 CharityBuzz is offering lunch with The Office accountants!
For the first time ever, enjoy lunch for 2 in LA with all 3 of NBC's "The Office" Accountants. Dine with primetime TV's most notorious accounting team. Angela Kinsey, Brian Baumgartner and Oscar Nunez, who played 'Angela,' 'Kevin,' and 'Oscar' respectively on NBC's Emmy-winning series "The Office." You and your guest will enjoy lunch Hollywood-style during this exclusive, once in a lifetime affair.
Link: Bid on lunch with The Office accountants (ends Tue June 3 4:09pm EDT)
Saturday, May 17th, 2014 |
35 comments
Here's the latest news, sales, and discounts on The Office merchandise.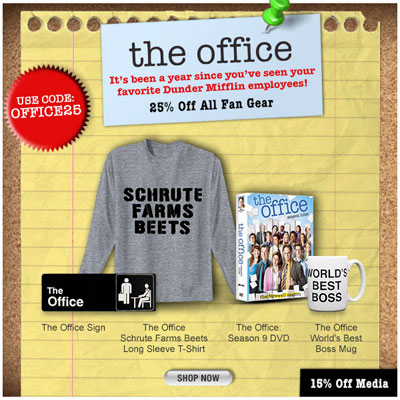 Get 25% off all The Office merchandise with code OFFICE25.
15% off media. Good through May 19.
Previously posted deals on the next page.
Monday, May 5th, 2014 |
7 comments
The most amazing cast and staff gather for one final table read of The Office.
As Michael Scott would say, it's emotionally magnificent.
Monday, May 5th, 2014 |
Comments Off
Entertainment Weekly interviewed Executive Producer Greg Daniels about The Office series finale.
An excerpt:
What about the network? What were their feelings about the ending? Did they have any input?

Daniels: No, they were super supportive. They wanted it to be done the way we wanted to do it and helped us strategize about how to pull it off. That's all. Well actually … you know, we didn't tell them about Steve. They didn't know about Steve and the line producer was a little nervous about it, I think he was afraid he was going to lose his job. But we shot the Steve stuff and we kept it out of the dailies and didn't tell them about it. At the table reading, we gave the Steve Carell lines to Creed.
So sneaky!
Link: 'The Office' creator Greg Daniels reflects on finale: How they hid Steve Carell from NBC