Sunday, May 18th, 2014 |
2 comments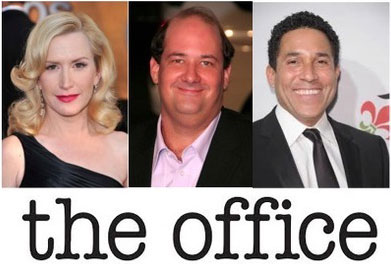 CharityBuzz is offering lunch with The Office accountants!
For the first time ever, enjoy lunch for 2 in LA with all 3 of NBC's "The Office" Accountants. Dine with primetime TV's most notorious accounting team. Angela Kinsey, Brian Baumgartner and Oscar Nunez, who played 'Angela,' 'Kevin,' and 'Oscar' respectively on NBC's Emmy-winning series "The Office." You and your guest will enjoy lunch Hollywood-style during this exclusive, once in a lifetime affair.
Link: Bid on lunch with The Office accountants (ends Tue June 3 4:09pm EDT)
Saturday, May 17th, 2014 |
35 comments
Here's the latest news, sales, and discounts on The Office merchandise.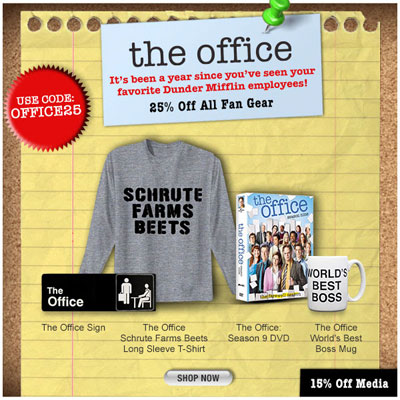 Get 25% off all The Office merchandise with code OFFICE25.
15% off media. Good through May 19.
Previously posted deals on the next page.
Monday, May 5th, 2014 |
7 comments
The most amazing cast and staff gather for one final table read of The Office.
As Michael Scott would say, it's emotionally magnificent.
Monday, May 5th, 2014 |
Add a comment
Entertainment Weekly interviewed Executive Producer Greg Daniels about The Office series finale.
An excerpt:
What about the network? What were their feelings about the ending? Did they have any input?

Daniels: No, they were super supportive. They wanted it to be done the way we wanted to do it and helped us strategize about how to pull it off. That's all. Well actually … you know, we didn't tell them about Steve. They didn't know about Steve and the line producer was a little nervous about it, I think he was afraid he was going to lose his job. But we shot the Steve stuff and we kept it out of the dailies and didn't tell them about it. At the table reading, we gave the Steve Carell lines to Creed.
So sneaky!
Link: 'The Office' creator Greg Daniels reflects on finale: How they hid Steve Carell from NBC
Tuesday, April 8th, 2014 |
2 comments
B.J. Novak visited The Ellen Degeneres show to chat about his book, One More Thing: Stories and Other Stories, and his time on The Office.
Friday, February 7th, 2014 |
3 comments
Congratulations to The Office editors David Rogers and Claire Scanlon for winning the ACE Award in the "Best Edited Half-Hour Series for Television" category for their work on Finale!
Very awesome. :)
Source: 64th Annual ACE Eddie Awards
Friday, February 7th, 2014 |
1 comment
In a pre-taped segment "What's Next for Jay?" on Jay Leno's final episode of The Tonight Show, Steve Carell gives some advice.
Sunday, February 2nd, 2014 |
2 comments
This Esurance ad ran right after the conclusion of the Super Bowl today, starring John Krasinski!