After taking a break from April Fools Day shenanigans last year, OfficeTally returned with an important announcement for 2010.
For this year's April Fools Day prank, OfficeTally announced it had been "integrated into Google."
OfficeTally sported Google's minimalist page design — gone were OfficeTally's trademark quote banner and links to popular features such as The Office episode schedule and spoilers page.
Here is what OfficeTally's home page looked like for most of today: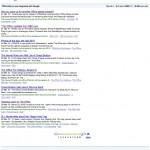 If you had clicked around, you would have seen that it was a fully functioning site — all of OfficeTally's content was still there, it just had a Google skin laid on top. (Thanks to Woogle for that.)
And if you had clicked the OfficeTally Terms of Service link at the top right corner of the page, you would have seen the full disclosure: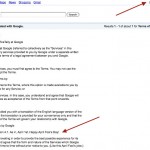 The Googlified site was live from around 1:30am to 3pm PT. Just like in 2008, comments streamed in throughout the day, but I only posted the ones that didn't catch on to the joke… for full pranking effect. (All comments have now been posted.)
Anyway, thanks for being good sports about it all! I figured since there is no new episode of The Office tonight, you wouldn't mind too much.
In conclusion:
OfficeTally is NOT part of Google. This was an April Fool's prank.
We now resume regular OfficeTally programming, quote banner and all.
This post was formerly titled "Are you guys up for another Office peeps contest?" and the original content is here. Full details about the contest coming Friday! The contest is NOT a prank. :)