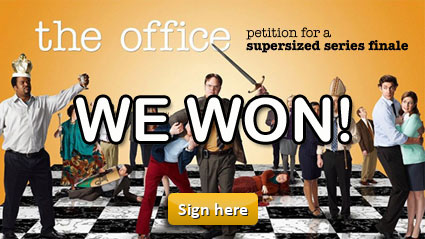 The Office ends its nine-year run this May with a one-hour series finale episode. Executive Producer Greg Daniels, however, needs more time.
May 7: TVLine reports that The Office finale is extended by 15 minutes. WE DID IT! The retrospective airs as scheduled 8-9pm, followed by the finale 9-10:15pm.
May 2: our petition has now collected 20,000 signatures. Woo hoo!
May 1: in a press call today, Greg mentioned that he is working with NBC to get extra minutes for the finale. Keep signing, you guys!
April 28: now that NBC has announced a retrospective airs before the finale, you can think of The Office "owning" the 8-10pm slot. This means there's an excellent chance they could shorten the retrospective in order to "supersize" the finale. As Tallyhead Raybans commented, "…the Seinfeld finale ran from 8:45 to 10 following their 45-minute clip show." Hey, we'll take that extra 15 minutes! :)
March 26: Executive Producer Greg Daniels responds to the petition.
Claire and Dave (our editors) have cut together just the first act and it's 23 minutes long, so we're definitely going to need some extra time to get everyone's stories in.

It's really great of the fans to come out like they did for Casino Night and help me request additional supersizing. You guys were able to melt Jeff Zucker's heart, so I bet you can do the same for Bob Greenblatt.

It will be worth it, I promise.

Best, Greg
Let's help Greg get more time. Sign the petition and spread the word!
—
Thanks to the following sites for helping get the word out:
E! Online | TVLine | SpoilerTV | Entertainment Weekly | The Office | TV Series Finale
Previously posted updates on the next page.