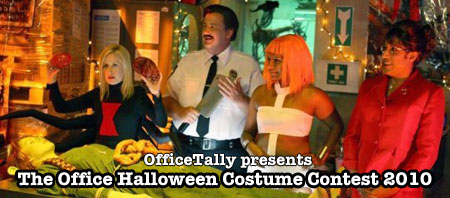 Dress up Office-style for Halloween for a chance to win some nifty gifties, including The Office Monopoly game!
UPDATE: unfortunately, this year's Halloween Costume Contest is canceled due to the low turnout. But I still want to give away copies of The Office Monopoly game, so stay tuned!
How to submit an entry
Take a photo of yourself in your Office-inspired Halloween costume.
Need ideas? There are tons of fan-submitted costume photos in OfficeTally's Halloween post!
Upload your unretouched photo to a photo site like Photobucket, Flickr, etc.
Upload a second photo of you in your costume holding up a newspaper/magazine with an October 1, 2010 (or later) datestamp that is clearly viewable.
Add a comment to this post with links to both photos.
Include a valid email address.
One entry per person.
U.S. entries only, please.
Rules, deadlines, and prizes subject to change without notice.
You'll see a [from tanster: entry received] note in the comment when your entry has been officially received; please allow 48 hours for this to happen. All entries will be hidden until finalists are announced.
How to win a prize
I will pick 20 or so finalists.
The finalists will then be entered in a fan poll.
The top three vote-getters will each receive:
– The Office Monopoly game, courtesy of USApoly
– An assortment of Target Office goodies
– HD version of the episode, Costume Contest, from the iTunes Store
Deadline
Enter by Sunday, October 31, 11pm PT.
Visit our sponsor
This year's costume contest is generously sponsored by USAopoly, makers of The Office Monopoly game. Check out new photos of the game and follow USAopoly on Twitter!
Can't wait to see what you guys cook up this year…