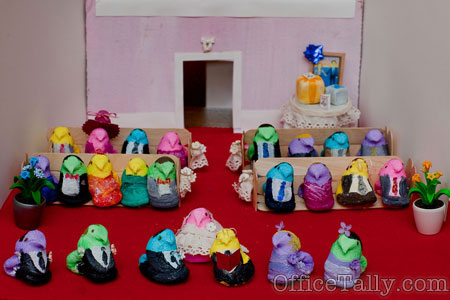 Creator
anna
Notes
From Episode 6.4-6.5 "Niagara"
Scene: Jim and Pam's wedding guests and party shortly after the wedding dance.
Materials used:
-Various fabrics (lace, cotton, muslin, felt)
-Lots of acrylic paint
-Model Magic (gifts)
-Wood scraps (table)
-Popsicle sticks (pews)
-Cardboard (floor, back wall)
-Playmobil flowers
-Paper
-Wire (glasses)
-Cardstock
Characters in back left pew: Bob Vance, Phyllis, Ryan, Kelly
Characters in front left pew: Cynthia, Stanley, Meredith, Erin, Andy
Characters in back right pew: Kevin, Angela, Oscar, Creed
Characters in front right pew: Michael, Hellene, Dwight, Toby
Characters in front: Pete, Tom, Jim, Pam, Minister, Penny, Isabelle
I did my best to accurately depict the scene. Since there were so many characters and extras involved, I had to leave some out, but I was sure to include all main characters! :) The placement on the Peeps isn't exactly the same as in the episode, but I tried my best to group the characters like they were in the actual episode. Unfortunately, many of the details I included (like Kevin's Kleenex box shoes, Pam's torn veil, and Jim's cut tie) are invisible because of the angle of the shot. Enjoy!