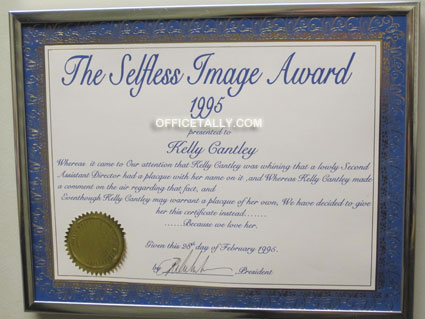 A certificate on the wall of the Dunder Mifflin Scranton office. The certificate reads:
"The Selfless Image Award 1995 presented to Kelly Cantley
Whereas it came to Our attention that Kelly Cantley was whining that a lowly Second Assistant Director had a placque with her name on it, and Whereas Kelly Cantley made a comment on the air regarding that fact, and Eventhough Kelly Cantley may warrant a placque of her own, We have decided to give her this certificate instead… Because we love her.
Given this 28th day of February 1995."
Kelly is a long-time Office 1st assistant director for The Office.