« Previous episodeNext episode »
Writers: Lee Eisenberg and Gene Stupnitsky
Director: Lee Eisenberg
Summary (NBC): Michael shocks Jim and Pam when he reveals the identity of the new woman he has been dating. Dwight apologizes to Jim for years of torment with a strange peace offering.
The Office The Lover extras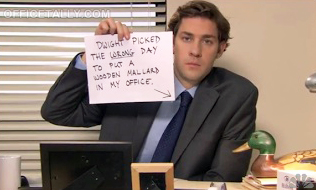 Dwight picked the wrong day to put a wooden mallard in my office.
In the scene where Creed cries while listening to an aria playing in Jim's office, the piece is called M'appari, written by Friedrich von Flotow from his opera 'Martha.' Source: The Office music staff
The Office The Lover rating
In a poll conducted October 22-26, Tallyheads rated this episode: 8.569/10
See all The Office Season 6 ratings.
The Office The Lover quotes
Jim: Frank and Beans!
Michael: Blind Guy McSqueezy. The women in my improv class absolutely hate him.
Pam: It's good to be home.
Jim: Do we have a conversation scheduled?
Dwight: I'd just like to say, "Con-quack-ulations."
Dwight: Now I can observe Jim, track Jim, and destroy Jim.
Dwight: And of course in this version, you lose the whole veiled critique of the Kaiser thing.
Erin: Coco leche. That's my favorite!
Michael: I have recently taken a lover.
Michael: She drives a green Camry …
Jim: [bleep]
Michael: … and the seats go all the way down. All the way down.
Michael: Get the hell out of here, idiot!
Toby: What did I do?
Michael: I think you're underestimating Pam. I think, more than anything, she wants me to be happy.
Jim: No. Not more than anything.
Jim: Then take a different way home, man!
Michael: That is amazing. I feel like a real Puerto Rican.
Jim: Just take the parrot.
Pam: No no no no no. No. Omigod! OMIGOD! NOOOOOOO!
Michael: That could have gone one of two ways. But I never expected her to get upset.
Dwight: Hey you want me to give you the chills?
Dwight: There's an egg on your head and the yolk is running down … there's a knife in your back and the blood is gushing down …
Pam: No, I am not being dramatic, you are being crazy!
Jim: I think if I play it out just right, I can get Dwight to live out the plot of National Treasure.
Pam: Your mother is sleeping with Michael Scott.
[Jim's sign]: Dwight picked the wrong day to put a wooden mallard in my office.
Dwight: Last Sunday, I had to put down over 150 pets all by myself.
Pam: I have a way to make Scranton a better place. You could leave it.
Michael: Nobody talks to my baby that way. All right. Bye Pickle.
Michael: Pamela Morgan Beesly, you need to apologize to your mother right now.
Pam: Don't call my mother your lover.
Pam: Yes, thank you. Welcome to my personal hell!
Michael: What is so wrong about me? I'm caring. I'm generous. I'm sensual.
Michael: Is it really so horrible that I could possibly go out and find happiness?
Phyllis: Good luck, Michael. I hope you find what you're looking for.
Pam: What is wrong with all of you? He is sleeping with my mother!
Dwight: I don't think there's a whole lot of sleeping going on.
Michael: Do not talk to me that way! I am your boss, and I may some day be your father. So get out.
Michael: I hope that you are willing to die in this office. Because I am.
Pam: Me too.
Angela: Pam? How's your day going?
Kelly: Ryan, I have to ask you a personal question. Do you think I should get a fedora?
Kelly: What the hell is a mallard?
Ryan: This reminds me, you owe me three bucks for gas.
Toby: Pull up a chair … or sit on the shredder.
Michael: I think I may be the victim of a hostile work environment, with this whole Pam situation.
Toby: I always knew if Michael just took the time to get to know me, we'd become friends.
Pam: Michael, let me make this very easy for you. I could give a [bleep] about your happiness. Stop dating my mother!
Michael: You know what, I'm going to start dating her even harder.
Jim: Hey.
Pam: Shove it.
Jim: Yup.
Dwight: Punishment fits the crime. I accept.
Pam: Maybe I'm overreacting.
Jim: Yeah. Maybe.
Pam: But I don't think I am.
Jim: You're not. Nope. Nope.
Dwight: Did you really think I would put my primary listening device in a wooden mallard? I'm not insane.
Icon provided by pessimistreader.