Just a few finale pictures from the weekend!
For the full listing of The Office Wrap Party content, go here.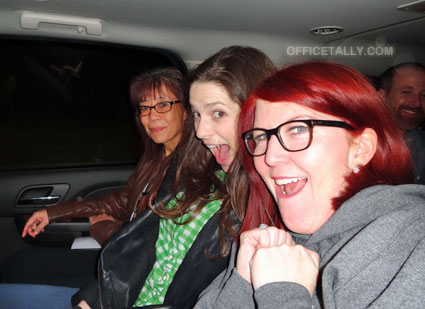 With Carrie Kemper, Kate Flannery, and Matt Sohn. Credit: Claire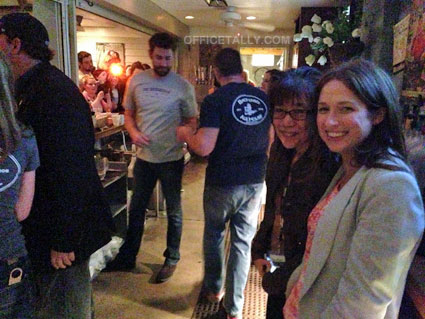 Behind the bar at Backyard Ale House with Ellie Kemper, Brian Baumgartner, and John Krasinski. Credit: Claire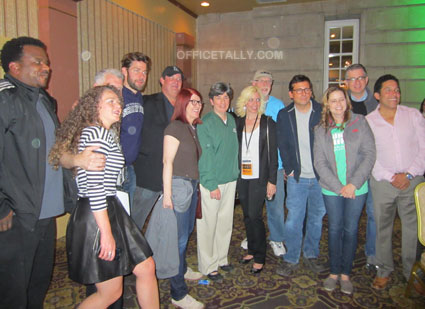 Post-PNC Field party. Credit: tanster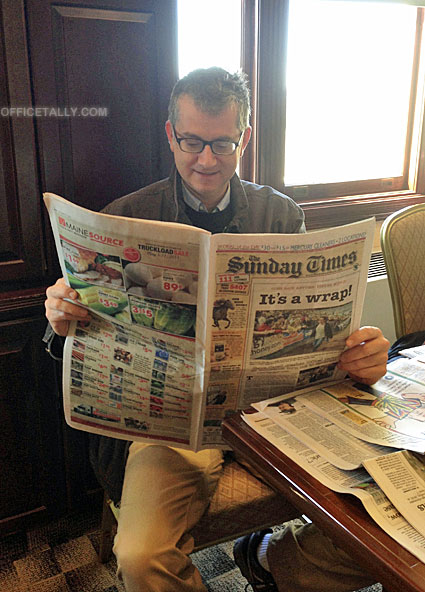 Greg reads the Scranton Times-Tribune Sunday morning. Credit: tanster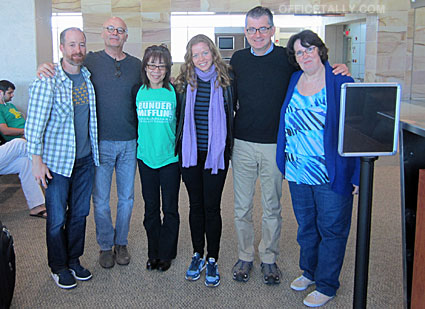 Final picture of my trip! At the airport with Matt Sohn, Creed Bratton, Claire Scanlon, Greg Daniels, and Phyllis Smith. Credit: tanster
Chatting with Steve Carell:
When I saw Steve in the Hospitality Suite at the hotel right before we were leaving for PNC Field, my jaw dropped in surprise. He remembered me and gave me a hug! Much, much later that evening around 3am, I bumped into him again. We chatted about how emotional this weekend was. He said to me, "Don't be sad that it's over. Be glad that it happened." He then gave me another hug, and left to go catch his very early morning flight. The fact that he flew in for this, after being gone from the show for two whole years, shows exactly the type of person Steve is. And it made me cry. Yet again.
Concentrated fun, laughter, and tears in a 24-hour period. Thanks to The Office staff for letting me part of it, and thanks to the fans who contributed photos, videos, and reporting. I love you guys!