My JMJ's report of The Office Wrap Party Friday VIP event, May 4, 2013.
I bought a new dress and shoes for the occasion, but it wasn't meant to be — not only did half The Office cast miss this event because their connecting flight left Philly without them, but I was stranded at Chicago O'Hare because my connecting flight was delayed and then canceled, after 6 hours of waiting!
Following is Tallyhead JMJ's report of the event, with photos by JMJ and Christina. Thanks, ladies!
For the full listing of The Office Wrap Party content, go here.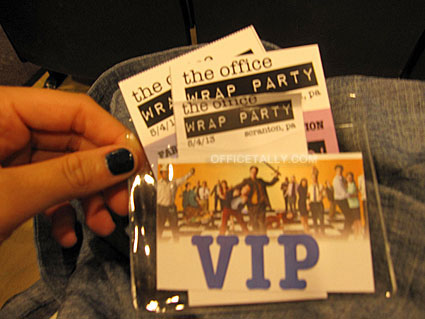 Credit: Christina
JMJ's report
We checked in for the weekend and then watched some bloopers in a screening room while we waited for the doors to open to the cocktail party at 8. A lot of us had seen on Twitter that Rainn and 6 other cast/crew members had missed their connecting flight in Philadelphia so I had no idea who would actually be at the party.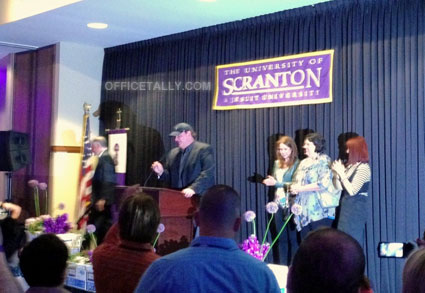 Credit: JMJ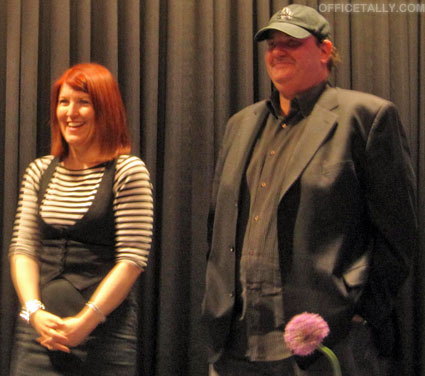 Credit: Christina
After a few minutes Ellie Kemper, Kate Flannery, Brian Baumgartner, and Phyllis Smith came in. They were escorted up to the stage and each made a few remarks. Then Kate and Phyllis went to one side and Brian and Ellie went to the other. My husband and I got in with a crowd of people who were getting autographs and photos.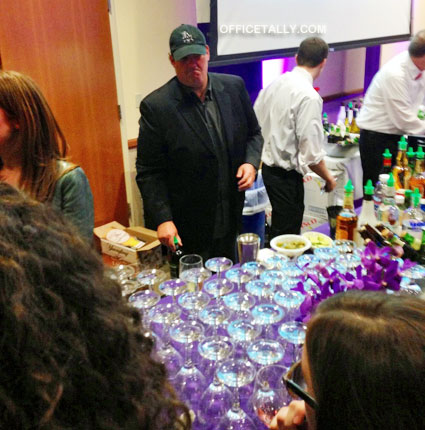 Credit: JMJ
Brian tended bar a little at one point and handed my husband a beer. Ellie was super sweet. I told her I also liked her guest starring role on The Mindy Project and she said she loves that show too. I got nervous and told Brian that "he was great last night". He said something like "oh that's always nice to hear." I meant that he was great in the episode but it took me a couple minutes to realize I had just "That's What She Said-ed" him.
We wandered around for a little bit and talked to some other fans. Then we noticed that Phyllis didn't have a ton of people around her so we got a photo with her too. She was very sweet and was taking photos of the crowd and the music (an a capella group performed the theme song).
My husband and I were really impressed with how appreciative they all seemed. After awhile the cast members left and we got our gift bags which were much better than I was expecting. It included a wrap party t shirt, Scrantonoply Board game, poster of Scranton, Bobble-head (I got Kelly!), Dunder Mifflin Umbrella, and other random Scranton and Office/Dunder Mifflin items. I couldn't fit all my SWAG in my carry on luggage.
Although it would have been awesome if Rainn and John K, etc had made it, I still had an amazing and memorable night.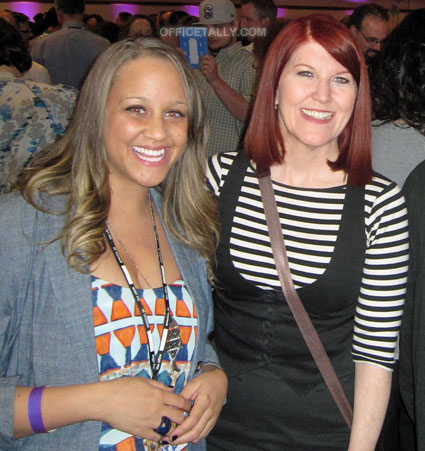 Credit: Christina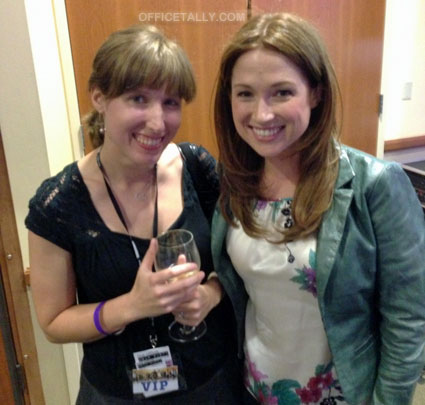 Credit: JMJ