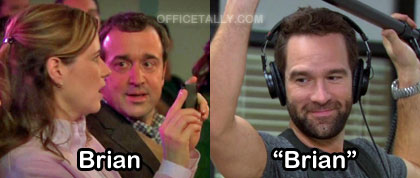 It's been awesome seeing some of the long-time Office staff in front of the camera recently, including the inspiration behind "Brian." Here's a little bit of trivia:
"Brian": the character of Brian the boom operator, introduced in the episode Customer Loyalty, is played by Chris Diamantopoulos. The character also appeared in Junior Salesman (cold open), Vandalism (the fight), and Couples Discount (lunch with Jim and Pam).
Brian: "Brian" the character is named after real-life and longtime Office sound man Brian Wittle. In Customer Loyalty, he steps in front of the camera as the annoyed parent sitting next to Pam during Cece's dance recital.
Superfan trivia: this isn't Brian Wittle's first time in front of The Office camera; he actually appears on one of the DVDs! See the next page.