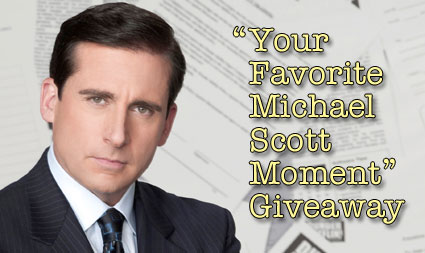 As part of OfficeTally's 'Goodbye, Michael' week, I'm giving away six commemorative Michael Scott engraved StealthArmors, courtesy of Fusion of Ideas!
To enter, just share your all-time favorite Michael Scott moment.
There are so many to choose from!
Need some inspiration? Check out NBC.com's Michael Scott Tribute Page.
UPDATE: congratulations to Kimba, Jackie, Becca, LovesItalianFood, Jerry, and Chris Cho — you are the giveaway winners! Check your inbox for an email from me…
How to enter
Post a comment to this question: What is your all-time favorite Michael Scott moment and why? You must include the name of the episode.
Include a valid email address in the Email field.
Grammar and spelling count, one entry per person, U.S. entrants only, please.
Deadline to enter: Friday, April 29, 11pm PT.
Six qualified entries will be randomly chosen to win!
About the prizes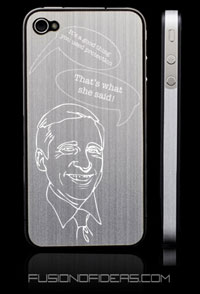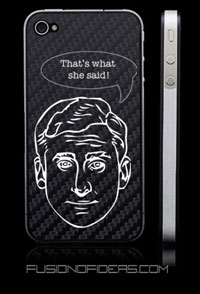 The StealthArmor folks are such huge fans of The Office, they created exclusive StealthArmor covers engraved with an artist rendering of Michael Scott to honor Steve Carell.
Each contest winner will receive a Michael Scott StealthArmor cover in a finish of their choice for any of the following Apple devices: iPad, iPad 2, iPhone, or iPhone 4. All cases are full-body kits, including a StealthArmor backing, clear front protector screen, and the iPhone 4 comes with the side bezel as well. These covers regularly retail for $35!
Design A (left): "It's a good thing you used protection" "That's what she said!"
Design B (right): "That's what she said!"
About StealthArmor
Made from the same material NASCAR uses to protect their cars from incurring damage from flying asphalt and debris, StealthArmor is a unique thin polymer case applied to personal technology devices to protect them from any dings, drops or scrapes. They come in a variety of colors and finishes for a variety of devices (iPhone, iPod Touch, iPod Nano, iPad, MacBook, Droid-X).