From Tallyhead Anna: "I had the experience of a lifetime when I visited the set of The Office. Thanks to my amazing husband who won an auction on OfficeTally for Brian Baumgartner's (aka Kevin Malone) charity "Hollywood Arts," I was able to have this incredible experience. My husband knows what a HUGE fan of the show I am and took it upon himself to 'win' me the visit!"
Words do not express the thrill and memories I have of the visit. Everything was EXTREMELY surreal!!
I got to meet so many of the incredible and VERY talented actors, such as Steve Carell, Jenna Fischer, John Krasinski, Rainn Wilson, Brian Baumgartner, Craig Robinson, Phyllis Smith, Leslie David Baker, Oscar, Kate Flannery, Mindy Kaling, Creed Bratton, Ed Helms, and Zach Woods (Gabe).
They were all so unbelievably nice and genuine; they made my friend and I feel very welcome. They are also VERY funny; some entertained us with hilarious stories!
Along with meeting many of the talented cast members, we got an ENTIRE tour of the set thanks to our "tour guide" Jackie … she was AWESOME!!
Randall Einhorn let us hold the camera (this was very thrilling!!), we got to sit in the green room and watch several of the scenes in upcoming episodes (which are HILARIOUS … as always!), ate lunch with Brian B. and some of the other cast members, visited hair/make-up/costume, and watched the amazing crew work together to make a scene look PERFECT and true to life.
Just when I think the day couldn't get any better, Dave Rogers (the VERY talented film editor) invited us into his office … we got to see how he edits, watch some more "spoilers," asked questions about how things work behind-the-scenes, watched some hilarious bloopers, and so much more!
The day was PERFECT in every sense of the word. The trip/visit was a chance of a lifetime and I am so appreciative to everyone on set for their wonderful hospitality! Everyone involved is extremely talented and brilliant!
After my visit I can surely understand how The Office is such a HUGE success (the #1 comedy/television show in my opinion) … due to this visit my "obsession" with the show has only increased!! ☺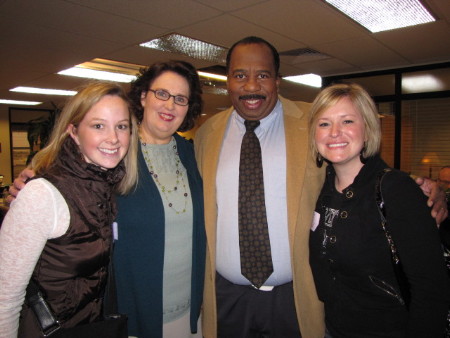 More photos on the next few pages!