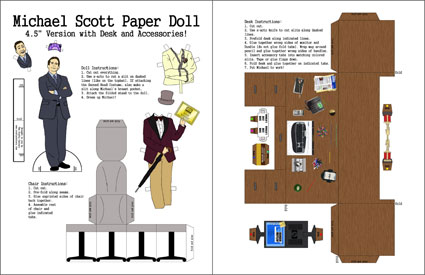 Experiencing Michael Scott separation anxiety already?
Cheer up with your very own Michael Scott paper doll.
As with Pam's teapot, the Michael Scott paper doll comes with "bonus gifts" — as in a desk, computer monitor, Dundie, World's Best Boss mug, nameplate, and chair.
But there's more!
Not only do you get standard Michael Scott in suit and tie, you also get his Willy Wonka outfit (complete with Golden Ticket and top hat), a straitjacket, his Prison Mike doo rag, and last but not least, his Halloween head!
I had a blast putting everything together. Here are a few pictures.
The Michael Scott paper doll and accessories were created by the amazing Cathy — longtime Office fan, beloved Dunder Mifflin Ypsilanti branch manager, and winner of the OfficeTally 2010 Peeps Contest. Thank you, Cathy!
Download here: Michael Scott paper doll
P.S. If you missed 'em last year, here are Cathy's paper dolls of Jim, Dwight, Pam, and Creed!