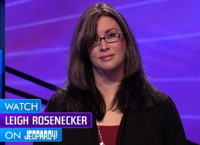 Tallyhead Sugahwafuhs, aka Leigh Rosenecker, appears on the Jeopardy TV game show today!
Why is this of interest, you ask?
Perhaps being an Office fan helped during Final Jeopardy. ;)
Leigh entered the Final Jeopardy round in second place with $15,000, behind the first place guy who had $26,400.
The category:
1989 No. 1 Hits
The question (answer):
"The Billboard Book of No. 1 Hits says this song brought mail from history teachers who hailed it as an educational aid."
She wrote down the right answer, wagered $11,398, bringing her total to $26,398.
The first place guy didn't get the answer right, wagered $3,601, bringing his total to $22,799.
LEIGH WON!!!
So what was the answer/question, Tallyheads?
Here's what Leigh said:
I was getting killed the whole game by this MACHINE of a player, and then the FJ category was revealed: 1989 #1 Hits. I am a total music dork, so I was thrilled.

The answer was "We Didn't Start the Fire." It took all I had to keep a poker face! The unbeatable guy was only 25, and got it wrong — so I ended up winning!

I knew the answer anyway, but all I could think that week was "RYAN STARTED THE FIRE! IT WAS ALWAYS BURNIN', SINCE THE WORLD'S RETURNIN'!"
(Dwight sings "Ryan Started The Fire" in The Office Season 2 episode, The Fire.)