8. THE OFFICE Clue Game *signed by Rainn Wilson*
About the item: Dunder Mifflin employees must determine WHO "killed" Toby, with WHAT office weapon and WHERE the crime occurred. Can you solve this Scranton mystery before it's too late? The classic game of whodunit gets a Dunder Mifflin makeover. A must-have collectible for any Office fan! The game will be autographed by Rainn Wilson ("Dwight Schrute")! See more photos here.
Game pieces include: Dundie, grill, rabid bat, pretzel, World's Best Boss mug, nunchucks, and more!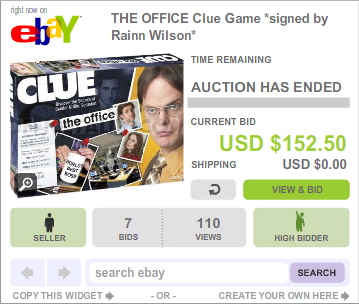 Link: Bid now at eBay (ended April 15)