Tanster's notes: blooper reel
The Season 6 blooper reel is longer than any other previously released blooper reel:
Season 6 blooper reel: 23:49
Season 5 blooper reel: 14:48
Season 4 blooper reel: 22:39
Season 3 blooper reel: 13:43
Season 2 blooper reel: 16:56
The first thing that struck me about this blooper reel is that it is full of Jim and Pam moments. Or I should say, John and Jenna moments. Longtime JAM fans will be tickled. "We have a prank!"
Aside from that, you can look forward to Dwight and Phyllis' ridiculous fight sequence, Oscar's falsetto voice during 'Murder,' cast members forgetting characters' names, Angela's southern accent overtaking her, and something that Ed Helms does that literally made me snort out loud at work.
Oh and of course, there are the requisite scenes of Steve stuffing his face with food and John fighting the urge to squeal.
David Wallace, Hide, and Clarke the lactation consultant (played by Jenna's real-life husband, Lee Kirk) all make appearances.
Here are a couple of screenshots from the blooper reel: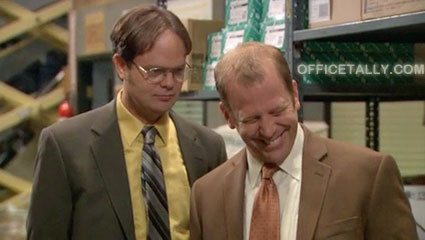 What word makes Paul Lieberstein laugh so hard that he starts to cry? "Lift."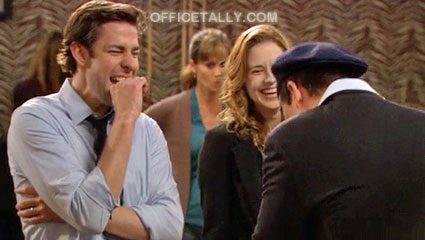 Steve loves to make John squeal.
If you missed it, check out clips from the blooper reel!
More of my notes on the next page.