Target special edition
The Target special edition with bonus disc is available on DVD and Blu-ray.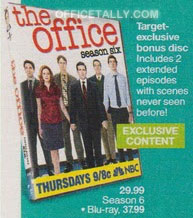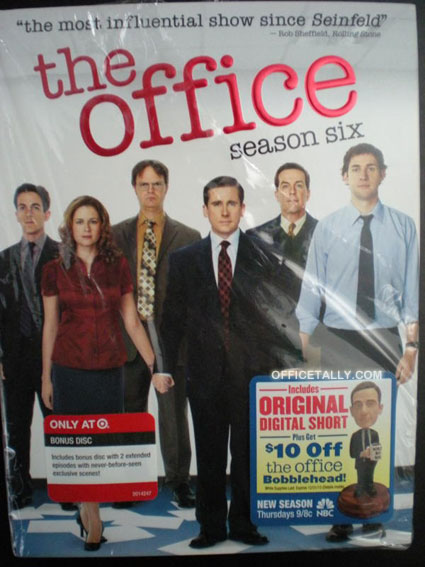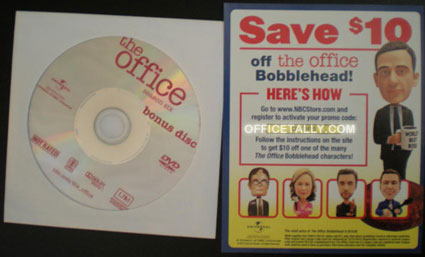 Tipster: feared and loved
Target special edition sticker
IMPORTANT: only packages with this sticker contain the bonus disc!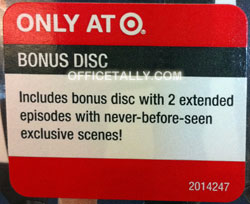 From Tallyhead Dustin:
As previously mentioned, the Target exclusive bonus disc contains the "Producer's Extended Cuts" of "Sabre" and "Whistleblower."

Here are the running times compared to the regular cuts of the episodes that are on discs 3 and 5 of the DVD set:

Sabre
30:30 Producer's Extended Cut
22:07 regular cut

Whistleblower
28:17 Producer's Extended Cut
22:08 regular cut
From Tallyhead Megan:
Sabre's Producer's Cut:
-Talking head with Andy and Erin about their "Sabre" song
-Extended conference scene included some questions to Gabe after Sabre video, a little more talk about vacation days
-Scene of Nick talking to Michael about site blocker
-Scene where Gabe talks to accounting about work distribution (namely Kevin)
-Scene of Michael listening to Gabe on the phone thinking he called Jo to tell her Michael is upset about changes (but he didn't)
-Scene where Kevin brings all his new work to accountant at Vance Refrigeration to try to get the accountant to do Kevin's work for him
-Scene of David Wallace and his wife trying to get Michael to stay for dinner
-Scene of Jim and Pam talking about the guy and they met with at the daycare and their next options
-Scene where Angela questions the authenticity of Kevin's work (because it was all filled out well by the Vance accountant)
Whistleblower Producer's Cut:
-Scene of Kevin talking to Erin (on the phone and in person at the same time) mostly about candy
-Michael tells Jo that Yonkers branch whistleblew and that they always do bad things to the Scranton branch's office (i.e switch out wall paintings) cuts to Oscar talking head that its actually Oscar blaming yonkers for everything he does (including skip work)
-Scene where Andy gets upset for getting hazed (someone writes "narc" on his desk he changes "c" to "d")
-Extended scene with Michael talking to Daryl in his office
-Scene where Jo interrogates Kevin, she asks why he has 500 pictures of his butt on his computer. Talking head where Kevin explains how he takes pictures of his butt everyday so it doesn't turn out "like the rest of him", shows him doing 2 or 3 things in the office to tone his butt
-More dialogue in Jo/ Michael airplane scenes
-Extended part of scene where Gabe blames Andy, someone mentions Jim's old roommate works in news and cuts to a talking head that Jim confesses he "might have called him"
-More office talk where they all try to blame each other
-Nick says he found creepy flirty email on Phyllis' computer to her step-son
-Extended scene with Hank the security guy and Dwight (Dwight asks him what kind of weapons he has)
-Michael gets asked questions by reporters at the end and says "no comment" to all of them.