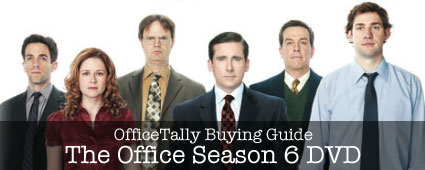 Release date: September 7, 2010
Buy at Amazon: The Office: Season 6 DVD
| The Office: Season 6 Blu-ray
Info: Box art | Bonus features | Screenshots | Blooper clips | tanster's notes
Special editions: Best Buy | Target | Costco
September 8, 2010
UPDATE #1: here are photos and information on the Target and Best Buy special editions, thanks to Tallyheads feared and loved, kreidy, Dustin, Justin, and Megan!
UPDATE #2: Tallyhead Christopher reports on a Costco special edition.
UPDATE #3: Tallyhead Megan describes the new scenes in the Sabre and Whistleblower extended episodes on the Target special edition.
Previously posted news on the next page.