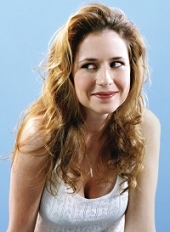 WARNING: NSFW due to adult content and links.
From Playboy Magazine:
"When I was in my 20s I had a boyfriend who wanted to send a nude photo of me to Playboy magazine. We never did, but he was really into the idea. I didn't date him for long. I am not into a man who wants to share his woman with the world. I find that to be an unattractive quality. If it's something I want to do, it should come from a feminist desire to, you know, express myself, not from an 'I want to show off my girlfriend' kind of thing," proclaims Jenna Fischer in Playboy's April 20Q (issue on newsstands and at www.playboydigital.com Friday, March 7).
Jenna chats about wearing boxer shorts, losing an Emmy, and keeping her The Office character authentic.
More from her sexy conversation on the next page.
Related posts
See Jenna Fischer naked in Jane Magazine.