There is a spoiler in NBC.com's newly-posted personality quiz! (I'm sorry. I know this will drive y'all crazy.)
More on 'Dinner Party':
TwirlingGrace: What's your favorite episode you've written?
leeeisenberg: probably The Dinner Party, which was shut down when the strike started.
leeeisenberg: It's the fallout of The Deposition. Michael and Jan host a dinner party at Michael's condo. We tried to write as a play, and it feels different from anything else we've ever written
leeeisenberg: in the same way that we try to write small, relatable office stories, we tried to write small observational dinner party moments
leeeisenberg: i know we're being vague, but… greg daniels will have us executed if we spill too much
leeeisenberg: but our goal was to write the most awkward half hour of television ever.
leeeisenberg: hopefully it'll turn out well
mg714: was everyone else going to be at the dinner party? or can you not say?
leeeisenberg: we want it to be a surprise for you guys, but it will feel very different from Jim's bbq.
Dec. 6: Jenna speaks about episode 13
Mike and Jen talk about the episode they were supposed to shoot during the week the WGA strike started:
JenCelotta: The one we were supposed to shoot this week as the funniest table read we've had.
MichaelSchur: That's true. It's an awesome script. Lee and Gene wrote it, and it's about people going to Michael's house for a dinner party. Honestly, it was the funniest table read we have ever had, and it's killing us that we can't shoot it.
I'm sad to say the one we were getting ready to shoot was going to be the funniest of the year. I'm sure of it. They've been pitching this particular story idea for over 2 years … it involves Pam and Jim being in Michael's home but that's all I'll say.
Oct. 22: NBC
Synopsis for 'The Deposition' (Nov. 15):
SUE CRAZY IN THE OFFICE — Michael (Golden Globe winner Steve Carell) finds himself between a rock and a hard place when Jan (Melora Hardin) sues Dunder Mifflin and Michael is deposed as a witness. Meanwhile, Kelly (Mindy Kaling) trash-talks Pam (Jenna Fischer) after Darryl (Craig Robinson) beats Jim (John Krasinski) at ping-pong. Rainn Wilson, B.J. Novak, Leslie David Baker, Ed Helms, Brian Baumgartner, Kate Flannery, Angela Kinsey, Oscar Nunez, Phyllis Smith, Paul Lieberstein, and Creed Bratton also star.
Tipster: llynn20
Michael in Gary, Indiana: Am I crazy, or was The Office kinda serious last week?

It was pretty serious, but we still laughed our collective backsides off. Be aware, there will be more drama headed Scranton's way. I'm hearing Dunder-Mifflin gets caught up in a lawsuit later this season. Also, drumroll, please! Next week is officially Watch with Kristin's "Office Week," with castmember (and director Joss Whedon!) interviews every day, so watch for it.
Marshall in Idaho: Please! Some Office dirt!

I just hit the set on Friday, and you won't believe who was there: Jim and … Karen!! Gaaah!! And Joss Whedon! Double gaaah! Needless to say, I have much to tell you after visiting the show's Utica branch (whoops, did I just type that?!) and that will be coming your way much closer to the episode airdate. For the time being, all I know is I heard Michael tell Jim, "Get back together with her and take her to a hotel and sleep with her," and it made my skin crawl! (P.S.: Love ya, Rashida. Honestly. But keep your paws off Pam's man!)
Tipster: Julie
Oct. 15: NBC
Synopsis for 'Survivor Man' (Nov. 8):
INTO THE WOODS-SPECIAL GREEN WEEK EPISODE — After Ryan (B.J. Novak) excludes Michael (Golden Globe winner Steve Carell) from a corporate wilderness retreat, Michael heads into the woods for his own survival adventure with nothing but the suit on his back. Back at work, Jim (John Krasinski) tries to revolutionize the office birthday party. Rainn Wilson, Jenna Fischer, Leslie David Baker, Brian Baumgartner, Ed Helms, Angela Kinsey, Kate Flannery, Oscar Nunez, Phyllis Smith, Mindy Kaling, Paul Lieberstein, Creed Bratton and Craig Robinson also star.
Tipster: sorano916
Micky in Alexandria, Louisiana: I like Rashida Jones but good riddance to Karen Filippelli. So glad Jim and Pam are together!

PB&J forever! But don't forget that we will be seeing more of Karen this season. Word is you'll soon learn where Karen is now working and how she really feels about the whole Jam situation.
Oct. 8: NBC
Synopsis for 'Branch Wars' (Nov. 1):
BATTLE OF THE BRANCHES — RASHIDA JONES ("Boston Public") GUEST STARS — When Karen (guest star Rashida Jones) tries to woo Stanley (Leslie David Baker) away from Scranton, Michael (Golden Globe winner Steve Carell) fights back, dragging her ex, Jim (John Krasinski), into his war. Meanwhile, the existence of a "Finer Things Club" further disturbs Dunder Mifflin's calm.
Tipster: sorano916
Joss Whedon is directing another episode of The Office … Whedon says his encore Office installment will either serve as this season's sixth or tenth episode. "It's Episode 10 … but since the first four episodes are hour-long, it may actually be Episode 6."
Question: I'm in need of some scoop on The Office. — Sarah

Ausiello: Jim and Pam are finally happy, so you know what that means: It's time for Karen to put in an appearance! Rashida Jones is due back on the set next week to shoot scenes at Karen's new place of employ. Office producers are currently casting the role of her assistant, a twentysomething metrosexual who is friendly and has a good energy. Meanwhile, I hear new bossman Ryan is also in the market for an assistant — and she's smokin'. According to the casting notice, she's in her early twenties, businesslike, attractive and smart. In other words, Kelly's worst nightmare come true!
Tipster: mg714
Oct. 1: NBC
Synopsis for 'Local Ad' (Oct. 25):
THE WONDERFUL WORLD OF ADVERTISING– When the Scranton branch is asked to participate in a Dunder Mifflin ad, Michael (Golden Globe winner Steve Carell) seizes his chance to exhibit his creativity. Meanwhile, Dwight (Rainn Wilson) explores the online world of Second Life. John Krasinski, Jenna Fischer, B.J Novak, Ed Helms, Leslie David Baker, Brian Baumgartner, Kate Flannery, Mindy Kaling, Angela Kinsey, Paul Lieberstein, Oscar Nunez, Phyllis Smith, Creed Bratton and Craig Robinson also star.
Tipster: sorano916
JustJared's got photos from the upcoming episodes Launch Party and Money.
Tipster: beckless1888
Producers of the NBC show "The Office" have enlisted the help of the Utica Chamber of Commerce to collect all things Utica.

"On the show, they have a satellite office in Utica and they need to build an authentic-looking set filled with Utica-based things you would typically see in a Utica office," said Lisa Morales, a marketing assistant with Mohawk Valley Chamber of Commerce, in a statement.
Tipster: Josh
Sept. 27: Greg Daniels' live blog
Stephen Merchant will be directing an episode in a few months. We are very excited to spend the week with him. He is an extremely funny and even taller man. Also, starting Monday, Jason Reitman (Thank You For Smoking) starts directing an episode called "Local Ad" where Dunder Mifflin makes an ad and Michael gets very excited and hijacks the production.
Sept. 24: IESB.net
Brooke in Los Angeles: Anything on The Office?
I talked to B.J. Novak himself on the Emmys red carpet about his burgeoning beard, and he spilled lots about Ryan's future, saying, "[The beard] is a sign of Ryan's wannabe maturity, his would-be transformation. Ryan sees himself as completely changed, and he wants to send a message. His clothes are completely different, and his facial hair is different. I narrowly avoided a pencil-thin goatee. At the last minute the other writers decided I could just grow scruff and call it a day. I wrote into my episode that [writer-actor] Mike Schur, who plays Mose, had to wear a horrible neck beard, which he grew for three months. And then he wrote into his episode that I had this awful goatee. And we experimented with a fake beard, actually, but I avoided that fate …"

Denise in Chicago: Greg Daniels said that Michael Scott's hard to manage and that'll be one of Ryan's big struggles this year. What's the deal with that? Will Michael be cleaning out the back of Ryan's car?
I asked B.J. just that! He told me, "I do ask him to get me a cold water, in the first couple of episodes." And how does he take that? Well, according to B.J., "Michael has incredible powers of self-delusion and incredible powers of idealization, so he takes that as a sign that Ryan is his friend who wants to treat him like a host. I mean, it's a comedy show, and that relationship is very complicated. Michael still thinks Ryan is his best friend and his protégé — his partner in crime."

Elijah in Philadelphia: The Office!
On the red carpet, I asked Phyllis Smith how Phyllis Vance was going to keep in touch with BFF Karen if she was gone from Scranton, and she said, "I guess we'll have to blog on the computer with her … Next time I need to go to the beauty parlor, I'm certainly going to call her, because we made a fabulous pair together." I also asked Phyllis how she does in the already infamous Fun Run, and she said, "I'm a pretty good contender. I have to let you know that."
Sept. 21: NBC
Synopsis for 'Money' (Oct. 18):
EASY COME, EASY GO–As Jan (Melora Hardin) renovates the condo, Michael (Golden Globe winner Steve Carell) confronts his growing debt every way he can, which includes pressuring his employees for a loan. Pam (Jenna Fischer) and Jim (John Krasinski) spend a night out on Dwight's (Rainn Wilson) family farm, now a bed and breakfast. B.J. Novak, Ed Helms, Leslie David Baker, Brian Baumgartner, Kate Flannery, Oscar Nunez, Phyllis Smith, Paul Lieberstein, Mindy Kaling, Creed Bratton and Craig Robinson also star.
Tipster: Jeffrey
Photos from 'Dunder Mifflin Infinity' (Oct. 4) here.
Tipster: sorano916
Sept. 14: NBC
The Office Summer Vacation: Compilation Video | Individual Videos
Sept. 14: NBC
Synopsis for 'Launch Party' (Oct. 11):
THE WORLDWIDE WEB — The Dunder Mifflin Infinity website is launching and Michael (Golden Globe winner Steve Carell) is excited about going to the big launch party in New York while Angela (Angela Kinsey) plans a satellite party for the Scranton branch. Meanwhile, Dwight (Rainn Wilson) competes against the website to see who can sell the most paper in one day. John Krasinski, Jenna Fischer, B.J. Novak, Melora Hardin, Ed Helms, Leslie David Baker, Brian Baumgartner, Kate Flannery, Mindy Kaling, Paul Lieberstein, Oscar Nunez, Phyllis Smith, Creed Bratton, and Craig Robinson also star.
Tipster: JJ, Matt
Kristin's interview with The Office Executive Producer Greg Daniels includes some vague character discussions, plus a video!
Tipster: Pamera
I shot my scene for, THE OFFICE, episode: DUNDER MIFFLIN INFINITY on 8/23. It's a fun scene with Steve C. & Rainn W, directed by Craig Zisk & written by Michael Schur (check them out on IMDB). I play an office manager and SC/RW come to my place of business with a hugh gift basket hoping to lure me back as a customer.
Tipster: Jon
The rumors are true. I was cast in a part on NBC's THE OFFICE. It's a small part, but still it was great time and I got to do a scene with the whole cast. My scene was with Steve Carrell! They were all so gracious and nice. Angela Kinsey and Kate Flannery were especially nice because they knew me from IOWEST, the improv theatre we all perform at. They were so supportive and made me feel like on of the cast. So, think good thoughts and hopefully this will lead to more gigs. I thank everyone who has supported me thus far!

P.S – The is a one-hour episode titled "LAUNCH PARTY" it comes out in October so stay tuned!
Tipster: BeckySue
Stephanie in West Chester, Ohio: I need some Jam news with my toast.
I'm hearing lots of cutie-patootieness for Jim and Pam in the new season. You better stock up on bread and peanut butter, or all that Jam will go lonely!
I can attest to the cutie-patootieness.
Tipster: Matt
Sept. 7: NBC
Synopsis for 'Dunder Mifflin Infinity' (Oct. 4):
THERE'S A NEW BOSS IN TOWN — Much to the dismay of Michael (Golden Globe winner Steve Carell) and many of the employees, Ryan (B.J. Novak) returns to the Scranton branch of Dunder Mifflin to bring the company into the digital age. Angela (Angela Kinsey) is still upset about her cat. Rainn Wilson, John Krasinski, Jenna Fischer, Melora Hardin, Ed Helms, Leslie David Baker, Brian Baumgartner, Kate Flannery, Oscar Nunez, Phyllis Smith, Paul Lieberstein, Mindy Kaling, Craig Robinson and Creed Bratton also star.
Tipster: sorano916
Sept. 5: NBC
Synopsis for the Season 4 one-hour premiere 'Fun Run' (Sept. 27):
THE RUN FOR THE CURE-SPECIAL ONE-HOUR PREMIERE – A freak accident causes Michael (Golden Globe winner Steve Carell) to feel the office is cursed. He explores the religious beliefs of his employees before deciding to hold a charity 5K fun run. Meanwhile, further developments in the romances of Pam (Jenna Fischer) and Jim (John Krasinski), and Dwight (Rainn Wilson) and Angela (Angela Kinsey) are explored. B.J. Novak, Melora Hardin, Ed Helms, Leslie David Baker, Brian Baumgartner, Kate Flannery, Oscar Nunez, Phyllis Smith, Paul Lieberstein, Mindy Kaling, Craig Robinson and Creed Bratton also star.
Tipster: sorano916
Although it appeared that Ryan Howard might be seen on the show less, producer Greg Daniels said that, on the contrary, we may be seeing Ryan more. Now that production is underway, we asked Novak is this turned out to be true. "He's definitely more on everyone's mind. Especially in the beginning and it's a big change, especially for Michael. To think of him as an authority figure slash best friend. And Michael's powers of denial are incredible, and his idealization of things — especially with Ryan, has been incredible. So he's setting himself up for some amazing mix of emotions this year. So the specter of Ryan looms very large, and I think we will see more of him. But, I think we will see more of everyone. I don't know how that will play out, as it's still in the beginning stages."

Novak also mentioned that we would be seeing more of Craig Robinson as Daryl, who has been made a regular cast member this year.
More in the article …
Tipster: Ryan
Where we left off: Jan Levenson (Melora Hardin) lost her job but got a new set of breasts to win back Michael Scott (Steve Carell). Ryan (B.J. Novak), the one-time intern, was promoted to a job in Dunder-Mifflin's corporate office.

What's next: Jan moves into Michael's condo as her new assets rekindles their romance. And we'll finally have the satisfaction of seeing Jim and Pam get together — we think. "It's not necessarily what (fans) want to happen or think is going to happen," says executive producer Greg Daniels. "But I don't think we'll have an angry mob on our hands." You'll be seeing less of Rashida Jones, who plays Jim's ex-office squeeze Karen, and more of Ed Helms and Craig Robinson, now full-time regulars. The season will start with four hour-long episodes, but Daniels won't be filling them with scenes from the cutting-room floor. "It will be a lot tighter and have a lot more stuff happening," he says. "We're trying to approach it like a comedy movie."
Tipster: Mixedberries
Aug. 20: Sparklies Gallery
Official NBC photos from 'Fun Run' at Sparklies Gallery!
Aug. 19: US Weekly
Another photo from 'Fun Run':
Tipster: Emily
Question: Since Kristen Bell isn't doing Lost, can you at least give me some Office scoop? — Matt

Ausiello: If that helps you cope, sure. Don't hold your breath waiting for Carol Burnett to play Michael's mama. Although the Office creator considered hiring her to play the plum part, when asked about it at press tour, he acknowledged that her status as a TV legend might prove a distraction for viewers. "The thing I'm a little worried about," he said, "is she's so famous."
Tipster: Tina
Aug. 13: TELEVISION WITHOUT PITY
Jeremy Goodwin's pictures of Fun Run.
Tipster: Angie
Silas in Greencastle, Indiana: Did you see that your unconfirmed rumor-spoiler about the Meredith Palmer Memorial Celebrity Rabies Awareness Fun Run was right?
Yep, which may unfortunately mean our Office source was also right when she said that Meredith Palmer is dead. All dead, not just mostly dead, and as you may know, there is a big difference between all dead and mostly dead. Mostly dead is slightly alive.

Update (9:30 p.m.): A very well-connected Office source assures us that Meredith is not at all dead. Not even slightly dead. Yay!!
This is a spoiler? ;)
Tipster: Tina
Aug. 10: Television without Pity
Eyewitness report from Jeremy Goodwin on 'Fun Run': 1 | 2 | 3
NBC will offer broadcast and online viewers an advanced sneak peek at the network's new and returning series for this Fall … a 30-minute program showcasing an upfront look to be conveyed on a variety of media platforms beginning August 11 through September 23.

The on-demand and broadband offering will also include … one exclusive scene from "The Office" …

Among the new and returning stars that will appear on the special are … Brian Baumgartner and Angela Kinsey …
Update: the Primetime Preview contains NO new Office footage. Boo!
Aug. 8: Photos from 'Fun Run'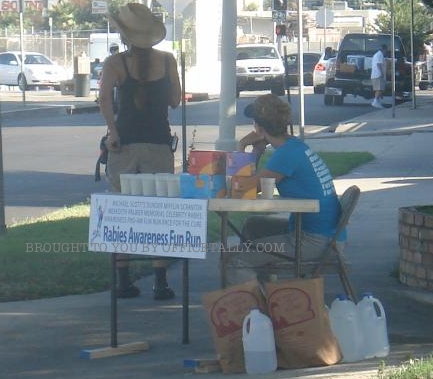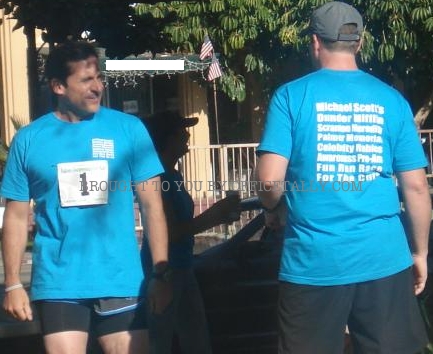 Can you read what the shirt says? Hilarious. (And is that John Krasinski?)
Tipster: Anonymous
Selena in El Paso, Texas: Do you know anything about season four of The Office?
This is an unconfirmed rumor, but it sounds funny enough to be true. Dunder-Mifflin may be sponsoring a [Name of Office Worker Deleted for Your Peace of Mind] Memorial Celebrity Pro-Am Rabies Awareness Fun Run. Memorial?! Yes. Rabies? Also yes — perhaps from the bat who busted into the office last season?

Rena in Berkeley, California: I needs me some Office news!
Joss Whedon is tentatively scheduled to direct his second Office episode in October.
Aug. 5: FILMING NOTICE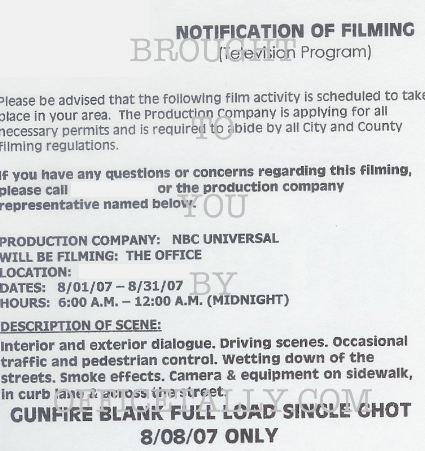 Tipster: Harut
Aug. 1
"Fun Run," the first episode of Season 4, was written by Greg Daniels.
Do you have any scoop on any relationship developments with Jim and Pam on The Office? — Carlee

Ausiello: John Krasinski confirmed that Rashida Jones will be back for a "couple of episodes" this fall. "I think we're going to find out where she went," he says, "because she didn't get to say her piece. I think she'll come back, slap everyone in the face and then be done — it'll be glorious!" Regarding Jam, Krasinski says he hopes this season will find the star-crossed lovers enjoying all the ups and downs of coupledom. "I think it would be interesting to see, after all that pressure, what a relationship would be like. I feel like there would be some sort of awkwardness because there is a lot of pressure, and I think both those characters would feel that. There's a lot of fun you could have with it."
Tipster: Carly
July 31: Gold Derby Forums chat with Rainn Wilson
Rainn reveals that the title of the first episode of Season 4 is "Fun Run," adding "so, you can imagine the lack of fun … that will be had by all."
Interview with Kent Zbornak:
All of the writers came back July 9, after the holiday, and we had 13 scripts in our hands. I mean four of those are one-hour scripts, but they equate to 13 scripts. So, we did have 13 episodes in our hands already, and we're going to have another three scripts coming in late next week. So, we're a bit ahead of the game. We've got 16 scripts already out of the 30.

I heard that the first four episodes are the one-hour episodes.
That is correct, and they will air back-to-back. Starting Sept. 29, our first hour will air, and then the following Thursdays our other three hours will air.

Do you have any teasers about anything coming up? Any Dunder-Mifflin field trips? Any new couplings?
There will be new couplings. That's all I'll say.

Ryan obviously got the job in the season finale. Will he still be around as much this season?
Ryan is going to be around. Because B.J. [Novak] is instrumental to us as a writer, this was actually a unique story to us that allowed us to still have his character on board, and now he's in the Jan capacity, occupying Jan's office at corporate in New York. It gives us the ability to see him on occasion, and the rest of the time he'll be actually with us writing and rewriting. But he's still in the process, and of course, now he's in the role of being Michael's boss. You're going to see a lot of fun with that.

That should be interesting.
I have to say, Ryan's character has embraced his corporate lifestyle, and he's going to be a tough boss for Michael down the road.

On to Jim and Pam. In the season finale, they moved forward in their relationship. Anything you can tell us about that? Will they be dating?
Will they be dating? Hmmm…

Are we going to see a date possibly?
I will say that they've taken that step up. Our first episode takes place two months after that particular moment, and they take a step up.

Are they exclusive?
It's going to be revealed in the first episode. You'll have a very clear definition of who they are and where they're going.

One last question. Is Jan really moving in with Michael, and will we be seeing Melora Hardin in stretch pants?
[Laughs.] That's a good question. You guys have done a lot of great homework. We laid the foundation that it appears that Jan is moving in with Michael. And I think, in that respect, she is going to embrace her life as a hausfrau.
… when "The Office" producer Greg Daniels was asked to preview his new season, he discussed stories on the margins (Ryan's promotion to Dunder-Mifflin corporate is real, Jan will be unemployed and living with Michael) while refusing to get within spitting distance of the answer the fans really want to know: will Jim and Pam get together for realsies?

"I find spoilers to be a big problem," said Daniels. "It's like everyone's always asking, 'What's going to happen? What's going to happen?' And then, they pull from different interviews from different cast members and they cross-compare with each other and they figure out what the stories are before we are ready to present them."
I pulled The Office's Oscar Nuñez (Oscar) and Kate Flannery (Meredith) in with my tractor beam and asked them what they thought Ryan's promotion might mean for his relationship with his colleagues from the Scranton branch. Will angry sparks fly?

Nuñez put the question to Flannery, "Wait, it depends, where's he going to be? In Scranton or in New York?" Flannery responded, "He's going to be in New York. But when a younger person is in charge of older people, sparks fly."
Newton native B.J. Novak doled out hints about what's in store on the fourth season of "The Office." In last season finale's, Novak's character, Ryan, was promoted to a job at the corporate offices of Dunder-Mifflin. "It's one of the big new elements of next year that Ryan will be Michael's boss," said Novak, who is also a writer on the show. As fans know, office chatterbox Kelly, played by Cambridge native Mindy Kaling , was unceremoniously dumped by Ryan in the final scene. Kaling has vowed that Kelly will make life miserable for Ryan, and Novak jokes: "Mindy's a writer too, so we can battle it out."
I've talked to some of "The Office" crew and they will be starting late this year because of various scheduling issues, but you will be seeing a PR onlsaught like you've never seen before very soon, now that the guy responsible for bringing the show to Amercia, Ben Silverman, is the head of NBC. The production offices have been revamped, and a bevy of new staff have been hired. From what I hear this season is going to be a monster, so clear the disc space on the Tivo.
B.J. Novak, who plays Ryan on The Office, said the coming season's plot will be heavy on the Dwight Schrute factor. B.J. is also a writer/producer on the series. "There's a lot of Dwight stuff — more than ever," he said.
The network announced Monday that the comedy's season premiere on Thursday, Sept. 27 would be an hour long. Later in the day, though, executive producer Greg Daniels noted that the show would run long for its first four weeks, eating up four of the five extra half-hours NBC trumpeted as a rerun-busting strategy at May's upfronts.
BUFFY creator Joss Whedon will be back to direct another episode for Season Four.

"Joss is going to come back," reveals Daniels, noting they have some offers out to other people of Whedon and J.J. Abrams caliber they're targeting for the new season of the NBC Thursday night comedy.
NBC Entertainment programming, both scripted and unscripted, will adopt green-friendly and environmentally-oriented messages – across all dayparts – to promote the crucial issue of ecological awareness. Among NBC's many programs to feature this content will be the entire Thursday night line-up, including the Emmy Award-winning comedy "The Office," "My Name is Earl" and "30 Rock," the hit drama "Heroes" and "Deal or No Deal."
Just scored some post-session scoop from John Krasinski. He confirmed that Rashida Jones would be back for a handful of episodes at the start of the season.
The Office goes green on November 8.
The Office Season 4 premieres on September 27 with a one-hour episode!
"I think that Ryan is in for it," Kaling said recently. "I don't think Kelly would even know where the phrase 'hell hath no fury' is from or even know what that means, but we're going to see that literally enacted upon Ryan, which I think is going to be funny to see. My character is kind of such a sweet ditz, so to see her be scorned and turned into Medea will be really fun and a challenge as an actor."

While on vacation here, Kaling was busy writing the sixth episode of the season.

"We get to see a character who we think is no longer going to be on the show any more," she said cryptically. "Someone who we think is long gone. They make an appearance so I was excited about the script."
Kwapis begins shooting his next feature, "He's Just Not That Into You," for New Line this fall. [Kwapis and John Krasinski] plan to shoot the season premiere of "The Office" together later this summer, at which time Krasinski's camera-loving mugging will surely resume.
Tipster: Lori
The fourth season of this hilarious, Emmy-winning American sitcom based on the British show by the same name finds Jim (John Krasinski) and Pam (Jenna Fischer) navigating a tentative romance while Kelly (Mindy Kaling) faces life without Ryan (B.J. Novak). No matter what, it's still business as usual at the Dunder Mifflin Paper Company as its quirky employees contend with the crazy ups and downs of work and relationships.
Hmmm …
Tipster: iHaveA_Dundie
And the cast keeps growing. We've added Craig Robinson and Ed Helms and Creed Bratton just recently. That's another three fantastic performers who are now regulars.

Can you give me any hints on what's happening next season?
A lot of it has to do with Ryan being the new boss. He's got a plan for Dunder Mifflin Infinity which has to do with the web.

Is Melora Hardin coming back?
I'm hoping we will see her come back. I think she's coming back.
What the heck is Dunder Mifflin Infinity?
The writers have "broken" the first 13 episodes. Each has two or three rough outlines — Daniels brought his two to Banff — and the plan is to reconvene after July 4 with completed scripts.
As the room clears out, B. J. Novak, who plays Ryan Howard, the newly made boss on The Office, says he's going to base his character on Silverman. "I want to do for Ben what Piven does for Ari Emanuel," he says. "I've been studying his mannerisms: huge enthusiasm, and then he'll slip in an incredible knowledge of specifics, way deep into a lot of complicated handshakes and backslapping."
Not really a Season 4 spoiler, but it does have a little tidbit about the possible longevity of The Office. In reporting about one of the newest members of The Office writing staff, Anthony Farrell, the article states:
Anthony's contract is for three (3) years and started on May 17, 2007.
That implies that The Offices goes to at least Season 6?
Are Karen's days at Dunder-Mifflin numbered? Is Jim going to break her heart?? Will she flee Scranton for Stamford???

"Don't worry — she'll be fine," laughed Rashida Jones, the adorable Harvard grad who plays the third wheel in the Jim-Pam-Karen relationship that has fans of NBC's "The Office" all in a lather.

The comedy's season finale suggests that Jim will be dumping poor Karen Filippelli for a try at love with his soulmate, Pam. And with Rashida's new series "The Rules For Starting Over" getting green-lighted by FOX, it's looking like Andy may be the sole survivor of "The Office" Stamford-Scranton merger!

"It's really up in the air," said Jones, who is in town tonight for the annual Peace Rocks show at The Roxy. "It's not a bad problem to have, though. It's a rare time, as an actress, when I have the problem of negotiating two jobs at one time."
Tipster: Paul
James in Kentucky: I hate to admit it, but I was a little underwhelmed by The Office finale. I thought Jan would be pregnant and Jim and Pam would kiss!

Hey, well, not all's said and done yet. I'm guessing we could be getting just that next season based on Jan's insane "mood swings." I personally thought the ep was hilarious, but yeah, it wasn't so off the charts on the shocker scale.

Thomasina in Atlanta: Will Rashida Jones be back on The Office next season?

The plan is to bring her back for an episode or two if she can work it out with her new show. My guess is that Karen sees the Jam gooeyness and bolts for the door…running all the way to Fox's The Rules for Starting Over, where she'll be a woman rebounding from a relationship and getting back into the dating world. Sorta fitting, right? Maybe John K. can guest star? (By the way, Rashida's show looks very silly-funny.)
I truly have no idea what is in store for Roy on the Office, but as most of you know it's not in my hands. I'm pretty certain I'll be back at some point, but I'm sure you all will know way before I'm ever allowed to say.
We are already hard at work writing the next season, which will be a very exciting one. Especially for Ryan, of course, who has risen quickly from temp to sexually-harassed salesman… to Michael's boss.
I think there will be some very funny plots next year involving Michael and Ryan … Their relationship could take on some characteristics of Michael and Jan … I'm sure that's Ryan's fear anyway.
Question: There hasn't been any scoop on The Office since early April! Come on, Ausiello! Give us something! — Emily

Ausiello: I tried (and succeeded) to make up for lost time at NBC's upfront Monday, where the entire cast (sans Steve Carell) was in attendance. John Krasinski and Jenna Fischer confirmed my frienemy's report that producers shot two different endings for the season finale, but denied it was because they were waiting to see if Rashida Jones' fall pilot was picked up. Their costar/producer B.J. Novak later backed that up, saying, "We always knew [which ending we were going to use], we just wanted to keep it a secret." He added that the twist ending is indeed a game-changer, and one that revolves around everyone. "Next year's going to be different," he teased, "and you'll see why in the finale."
Re: 'The Job' (May 19):
The scoop: There's an opening at Dunder Mifflin corporate, and Michael (Steve Carell), Jim (John Krasinski) and girlfriend Karen (Rashida Jones) all want it. "Somebody does take the job," cocreator Greg Daniels tells Us (best bet: Jim). "We'll see more of the New York offices next year."

Office crush: Fans rooting for Jim and Pam (Jenna Fischer) to revisit romance may be disappointed: Jones is back for Season 4, and, says Daniels, "Pam is on a journey of self-discovery. Her happiness may be more about her self-realization."
Tipster: RealityCheck
Interview with Melora Hardin:
What is it about your role as Jan on "The Office" that really has enticed you to keep coming back to the show?

Well, they made me a regular on the show in the second season so they have me for the next five years and I just love her! I just think she's got a lot of depth and dimension. I always describe her as a woman who has a hard exterior and a soft, gooey center. I love that her flaws are showing through. She's got so much going on at all times, there are a least three things to play in every moment with her, so she's a lot of meat to bite in to for an actress. I have to say, I'm madly in love with Jan Levinson, so I guess it's a good marriage. You're supposed to be in love with your character.
Interviewer: Have they told you already which direction the next season is going to be taking?
Jenna: Yes.
Interviewer: Can you give us a little hint?
Jenna (laughing): Does this smile tell you anything? It's good stuff.